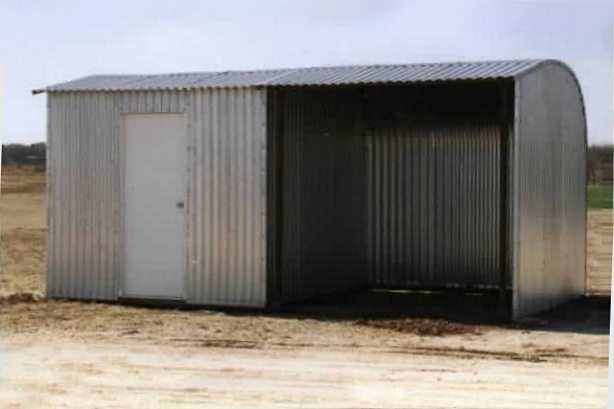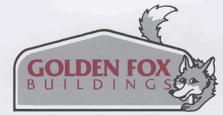 Curved eave buildings are available in 9′, 12′, 15′, and 24′ widths, by 3′ increments in length. These buildings are 22 gauge sheeting and come in your choice of galvanized or painted white. All parts are pre-formed and die punched for ease of assembly. Totally bolted construction includes grade 5 – 5/16″ bolts with neoprene washers and serrated flange nuts. Caulking is provided for the roof seams. Basic price of the buildings includes one solid endwall, the other end open. We offer a variety of options. Buildings can be used for a variety of needs. They serve well as garages, storage units, livestock shelters, workshops, etc.
We offer an open side building in the 2200 series line. They are available in 9′, 12′, 15′, and 24′ widths and 3′ increments in length. The open side buildings come in the straight eave which gives you 7'6″ clearance. They also come in a curved eave version which gives you 6′ of clearance. These buildings work great for livestock. We can enclose part of them to make a feed room or tack room.
Straight eave buildings that are available in 9′ and 12′ widths. They are constructed of 26 gauge sheeting that comes in white. These buildings also have the same features as the 2200 series line. These building come priced complete with the framed end wall and a roll up door. These buildings are great for backyard storage or utility buildings.
22 gauge galvanized steel shelters are available in 5′ and 12′ widths. The individual livestock hutch measures 5′ x 7'6″ x 45″ and can be used for calves, pigs, sheep, and dogs. The 12′ wide is sold in 3′ increments in length. The top-flip backs are shipped fully assembled. The top-flip opening measures 30″ x 40″. It is used for ventilation. These shelters are easy to assemble and also portable.
Steel Pipe Frame Base
It is available for all buildings. It comes ready to bolt together with no cutting or welding necessary. The pipe is 2 7/8″ in dia. The base angle of the building is welded to the pipe frame for quick assembly. The pipe frame works well when portability is needed.